Carbide Cutting Tool Specialists,
Wood and Metal Working Machinery, Accessories

5160 N. Pioneer Rd. Gibsonia, PA 15044

Call Today! 800-443-2222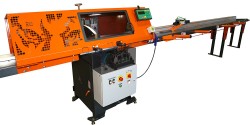 TigerSaw1000
Call Today! 800-443-2222
Or stop in for more details about this and other products we offer!
Product Description
High quality parts from low grade stock.
With rising raw material costs, being able to efficiently cut around defects and optimize your material can be your secret competitive weapon.
Use lower grades of stock with TigerSaw 1000™ and Dynamic Optimization™. Save money on material, labor and rework. TigerStop's optimizing cross-cut saw is your competitive advantage.