Carbide Cutting Tool Specialists,
Wood and Metal Working Machinery, Accessories

5160 N. Pioneer Rd. Gibsonia, PA 15044

Call Today! 800-443-2222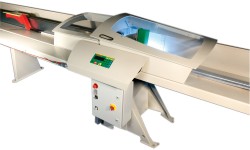 TigerSaw XL
Call Today! 800-443-2222
Or stop in for more details about this and other products we offer!
Product Description
TigerSaw 1000™'s big brother!
TigerSaw XL™ takes on the heaviest jobs with all the features and benefits of TigerSaw 1000™. TigerSaw XL™ comes equipped with a TigerTurbo™ or HD2™ for large pushing capacities and increased processing speeds.