Carbide Cutting Tool Specialists,
Wood and Metal Working Machinery, Accessories

5160 N. Pioneer Rd. Gibsonia, PA 15044

Call Today! 800-443-2222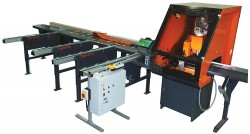 TigerSaw Ferrous
Call Today! 800-443-2222
Or stop in for more details about this and other products we offer!
Product Description
Steel cutting the TigerStop way.
TigerStop introduces THE ferrous cutting solution for 90 degree and miter cutting applications. This is the ideal cutting system for tube, pipe, bar stock, or any other ferrous materials.
If production capacity is what you need, the TigerSaw Ferrous column saw can be equipped with a pneumatic material loader so you can just load and walk away. Low on staff? Add the material unloading station and one employee can run multiple machines with ease.
Combine this with TigerStop's Dynamic Optimization on-the-fly nesting software, and you will have a lean, ferrous cutting work cell that reduces your scrap by up to 33% in some cases, and greatly increases productivity.