Carbide Cutting Tool Specialists,
Wood and Metal Working Machinery, Accessories

5160 N. Pioneer Rd. Gibsonia, PA 15044

Call Today! 800-443-2222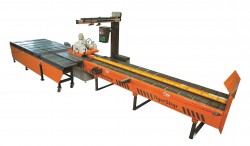 TigerRip1000
Call Today! 800-443-2222
Or stop in for more details about this and other products we offer!
Product Description
Dynamic Optimization at the rough mill.
TigerRip 1000™ is the lean, rip first, add-on solution for your rough mill needs. This straight line rip saw solution can be purchased as an entire turn-key system, or can be retrofit to your existing saw, giving you the benefits of much larger and expensive systems.
TigerRip 1000™ allows you to bring lean manufacturing to the rough mill. Using TigerStop's Dynamic Optimization algorithms, TigerRip 1000 mathematically finds the best use of your material and keeps track of all the material ripped, letting you build-to-order without needing to keep a buffer inventory. Saving you inventory costs, space, and wasted labor.
The TigerRip 1000™ modular product line is available with three different components, and is available in three various options. See below for more information.
Add-On Components:
TigerRip 1000™ optimizing and positioning in-feed system
Integrated straight line rip saw
Return conveyor
Options:
TigerRip 1000™ System includes all three components, creating a fully integrated system out of the box. (Pictured above)
TigerRip 1000™ – In Feed With Saw includes the TigerRip 1000™ in feed system and the saw, excludes the return conveyor. (Pictured below on right)
TigerRip 1000™ – In Feed Only includes the TigerRip 1000™ in feed system and integrates with your existing saw. (Pictured below on left)
| | |
| --- | --- |
| TigerRip 1000™ – In Feed Only (integrates with your saw) | TigerRip 1000™ – In Feed With Saw |