Carbide Cutting Tool Specialists,
Wood and Metal Working Machinery, Accessories

5160 N. Pioneer Rd. Gibsonia, PA 15044

Call Today! 800-443-2222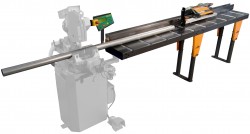 TigerRack
Call Today! 800-443-2222
Or stop in for more details about this and other products we offer!
Product Description
Accuracy and precision for heavier loads.
TigerRack™ offers precision, accuracy and speed for your industrial applications. TigerRack™'s precision rack and pinion drive system will keep your production humming. Designed for processing tube, bar stock and heavier materials. Have a rough application? TigerRack™s brake system helps guarantee that you don't end up miscutting parts. Push it, Pull it, Position it. TigerRack™ gets the job done!

Built Metal Tough
TigerRack is part of TigerStop's Built Metal Tough line of products. These are products with features and durability that metal working shops and plants have come to expect from their equipment. Does this mean that TigerStop's Built Metal Tough products are only good for metal applications? Nah – in fact, they'll work anywhere you need a tough and durable system to position lots of material quickly and accurately.