Carbide Cutting Tool Specialists,
Wood and Metal Working Machinery, Accessories

5160 N. Pioneer Rd. Gibsonia, PA 15044

Call Today! 800-443-2222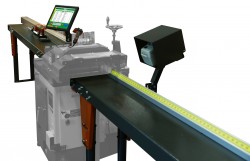 Software & Automation Solutions
Call Today! 800-443-2222
Or stop in for more details about this and other products we offer!
Product Description
TigerStop® has a suite of software options to fit your work flow. Send jobs from your design software to your TigerStop® with ease.
Clipboard™
Clipboard™ is TigerStop®'s touch screen part list processing and visual optimizing software platform.
TigerLink 6™
Easily connect your office computer to your TigerStop® with TigerLink 6™. Send jobs from your design software or other custom file, directly to TigerStop®.
TigerSet™
Using TigerSet™, you can control TigerStop® from a custom software program, PLC or a barcode scanner. TigerSet™ includes a feature rich command set that allows you to know where TigerStop® is, tell it to go somewhere and even monitor the inputs and outputs.
Dynamic Optimization™
TigerStop®'s Dynamic Optimization™ will scan your part list and determine the best way to cut your parts to give you maximum use of your material, saving 33% material on average. Dynamic Optimization™ can be added to any TigerStop® when built or can be added as an upgrade at any time.
Label Printing
Use as a stand alone option to print your length and quantity information, or pair with Clipboard™ / TigerLink 6™ and print custom, user defined labels for all your parts!
Automation Solutions – TigerStop® Interconnect Kits
In conjunction with customer or dealer-supplied safety guards, TigerStop Interconnect Kits (either Standard or Advanced) facilitate precise control and automation between the TigerStop positioning system and your machine.
TigerStop Advanced Interconnect Kit:
Controls the movement of your saw or other machine tool.
Prevents material movement when the tool is not in the safe position.
Starts and stops tool's action and enhances performance by controlling the tool's air supply using
the air control solenoid.
Can be configured for full automation of your TigerStop work station, with appropriate safety guards.
TigerStop Standard Interconnect Kit:
Included with most TigerStop products.
Prevents tool movement when TigerStop is in motion.
Prevents TigerStop movement when tool is in motion.