Carbide Cutting Tool Specialists,
Wood and Metal Working Machinery, Accessories

5160 N. Pioneer Rd. Gibsonia, PA 15044

Call Today! 800-443-2222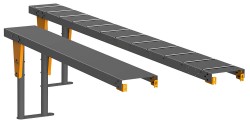 Material Handling Tables
Call Today! 800-443-2222
Or stop in for more details about this and other products we offer!
Product Description
TigerStop® made tables are the ideal foundation for your TigerStop® system. Made from 3/16 in cold rolled steel, these tables can be adjusted from a height of 35 to 45 inches. Each table is designed to attach to most tool types.
Style and design meet durability to make these tables the perfect material handling solution for the lean shop.
Safety matters
Roller tables are notorious for workshop injury. TigerStop®'s filled space between rollers improves safety, helping to prevent pinch injuries.