Carbide Cutting Tool Specialists,
Wood and Metal Working Machinery, Accessories

5160 N. Pioneer Rd. Gibsonia, PA 15044

Call Today! 800-443-2222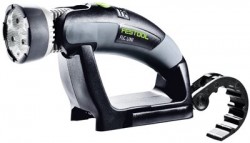 SysLite Uni Worklamp – 500639
Call Today! 800-443-2222
Or stop in for more details about this and other products we offer!
Product Description
A perfect partner to the SysLite and the Festool cordless system, the SysLite Uni delivers quality, durability, and performance in a spotlight platform. Equipped with three LED Lamps, pivoting head, high and low settings, and a battery fuel gauge, the SysLite Uni Torch provides reliable lighting for nearly any setting or challenge. The large handle makes it easy to carry while the belt hooks on each side provide hands-free options. A removable rafter hook for overhead lighting and a keyhole slot for mounting on a nail or screw provide even more working options. Compatible with Lithium Ion and Nickel-based Festool battery packs (flat, slide-type batteries). Note: Battery sold separately.
Equipped with three LED Lamps, pivoting head, high and low settings, and a battery fuel gauge
The large handle makes it easy to carry while the belt hooks on each side provide hands-free options
A removable rafter hook for overhead lighting and a keyhole slot for mounting on a nail or screw
Compatible with Lithium Ion and Nickel-based Festool battery packs