Carbide Cutting Tool Specialists,
Wood and Metal Working Machinery, Accessories

5160 N. Pioneer Rd. Gibsonia, PA 15044

Call Today! 800-443-2222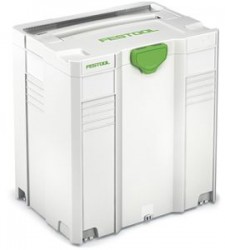 SYS 5 empty Systainer – 497567
Call Today! 800-443-2222
Or stop in for more details about this and other products we offer!
Product Description
Systainers – Organization made easy. Sold standard with most of our tools, Festool Systainers offer a rugged, flexible, and convenient means of storing, carrying, and combining tools and accessories. Designed to seamlessly connect to one another and to Festool Sortainers and CT Dust Extractors, the Systainer System makes it possible to configure highly mobile, job-specific kits, keeping you organized and working efficiently. Made of durable, robust, high quality ABS for long service-life. All Systainers share an identical footprint for easy stacking, storing, and transport. Large, centrally positioned, oversized handle makes it easy to carry heavy loads. Systainers are available in 5 different sizes, providing a solution for virtually every need.
Seamlessly connects to other Systainers, Sortainers and to Festool CT Dust Extractors for easy transport.
Work more efficiently by stacking and latching tools and related accessories to create highly mobile, job-specific kits
Made of durable, robust, high quality ABS for long service-life
All Systainers share an identical footprint for easy stacking, storing, and transport