Carbide Cutting Tool Specialists,
Wood and Metal Working Machinery, Accessories

5160 N. Pioneer Rd. Gibsonia, PA 15044

Call Today! 800-443-2222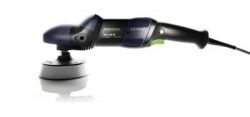 Shinex RAP 150 FE Polisher – 570779
Call Today! 800-443-2222
Or stop in for more details about this and other products we offer!
Product Description
The aim of every Festool power tool is to make your day-to-day work better and more effective. With this in mind, Festool worked closely with specialists in the woodworking and painting trades to bring you the new SHINEX Rotary Polisher. Careful attention to ergonomics and gripping options, combined with light weight and well-balanced weight distribution, make tool guidance easy and secure, especially during extended use. Variable speed allows you to perfectly adjust the tool's output for the job at hand. Double reduction gearing ensures consistent, high performance and exceptional endurance for the rapid elimination of surface defects and powerful buffing of high gloss surfaces, delivering the ultimate in finishing results. With 1200 watts of power, the SHINEX is capable to conquering the most demanding polishing applications with ease. Variable speed settings allow you to dial in the perfect speed for the application at hand between 400-2100 RPM. At only 4.6 pounds, the light weight design prevents fatigue during extended use. A fluff filter screens contaminants from polishing pads, felts, sheepskins or other environmental debris and protects the motor for longer service life. Festool offers a comprehensive assortments of polishing pads, felts, sheepskin and polishing compounds to complement the SHINEX.
1200 Watts of power to conquer the most challenging polishing tasks
Varible speed settings allow a range of speeds between 400 and 2100 RPM
Lightweight, balanced design prevents fatigue during extended use
Themal overload protection protects the tool from damage from overheating