Carbide Cutting Tool Specialists,
Wood and Metal Working Machinery, Accessories

5160 N. Pioneer Rd. Gibsonia, PA 15044

Call Today! 800-443-2222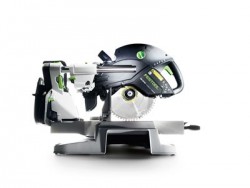 Kapex KS 120 Sliding Compound Miter Saw – 561287
Call Today! 800-443-2222
Or stop in for more details about this and other products we offer!
Product Description
Capacity in a compact design The Kapex is the most advanced sliding compound miter saw in the market today. In the hands of a carpenter, this saw will make cuts that rival the finest trim work being done today. Engineered to be light weight and compact, the KS 120 is the perfect saw for the workshop or the jobsite. Effective dust extraction, precise cuts, easy adjustments, and quality components are some of the features that should make this saw the number one choice of professional tradesmen.
The Kapex features a rail forward design which increases precision and creates a compact footprint while preventing head play for accurate cuts.
Easily align cuts from the left or right side using the dual lasers. The lasers clearly define the material which will be removed during the cut.
Micro-adjustable bevel angle with up-front rotary knob. Large bevel scale and fine pointers make it easy to set precise bevel angles.
Dust extraction up to 91% with behind the cut dust hood and pivoting 36 mm hose.